ASSOCIATION STRATO WORKSHOP
ASSOCIATION STRATO WORKSHOP
The aim of the Association is to promote, support and consolidate all design, architecture, art and cultural activities in general without any territorial limits. This is a No Profit Association: any proceeds from its activities cannot be divided among its Members, even indirectly, and must be reinvested in favor of the institutional activities.
The STRATO WORKSHOP Association is also responsible for managing the archive and protecting the heritage of STRATO, promoting STRATO's works through the creation of unusual places linked to nature, organizing workshops and artistic cultural initiatives.
We invite you to join the community of STRATO CLUB.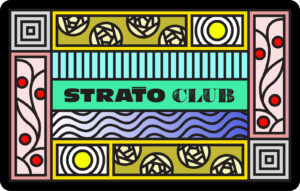 Salvatore Falci Floor Strato, March 1996

Masonite, wax and layered varnish removed by scratching from the movement of the Strato workings.
STRATO WORKSHOP PROJECT # 1 NATURE MEETS ART
A place where you can find the harmony necessary to stimulate creativity
STRATO's vision has always been the bespoke style, thanks to continuous research, both in the field of natural materials and in the forms, exasperating the manual contents and the creative component so that the object has that character of uniqueness and of the unrepeatability of a work of art.
The new STRATO vision is to create a place surrounded by nature to host the STRATO works created in collaboration with designer artists and to give life to the project # 1 NATURE MEETS ART, a place to host works located among trees and shrubs of aromatic herbs.This new way of making culture in unusual places is an invitation to rediscover nature and generate a new creative experience.
Your contribution will be used to fund the project #1 NATURE MEETS ART.
You can donate by Bank Transfer: Strato Workshop Gallery, No Profit Association, Vat Number 97866630151.
Iban: IT04 B360 9201 6006 6119 0859 221
Swift: QNTOITM2XXX
Bic: BNPAFRPP
Please send an email to gnn.frn@gmail.com, stating the date that you transferred your donation. This will help us to keep track of your transfer and we can then let you know and thank you once we have received it.