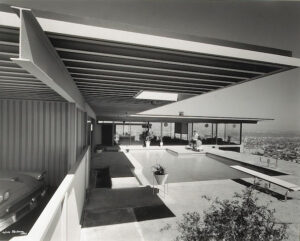 Julius Shulman's 1960 photographs of Pierre Koenig's Case Study House #22, better known as the Stahl House, changed the fantasies of a generation.
The "Case Study" program was one of the first and most interesting experiments on residential architecture. John Entenza, director of Arts & Architecture magazine, had commissioned some of the best architects of the time, including the Eameses, Richard Neutra, Eero Saarinen, Pierre Koening, to build low-cost houses.
Designed in 1959, the Stahl House is located in the hills around Los Angeles and is one of the most interesting masterpieces of contemporary architecture.
Constructively, it is made through the use of a steel structure resting on a reinforced concrete base with some parts overhanging the valley below.
The privileged position of the house is decisive for the L-shaped development of the system, which opens towards the landscape and the swimming pool, and closes towards the road behind it.
The L not only allows you to look towards the city but also to divide the rooms into two areas, private and representative.
The house is simple, modern, with a structure almost entirely in iron and glass, light and transparent, just to look away, without barriers and without brakes.
CASE STUDY HOUSE #22
Architect: Pierre Koenig
Photo: Julius Shulman